Elementary School Memory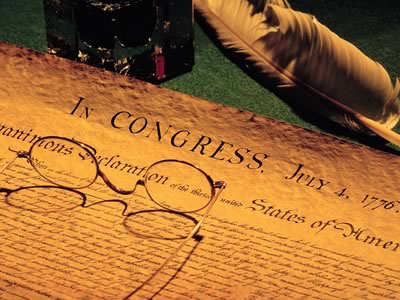 When I was in 5
th
grade and learning about the Revolutionary War, my teacher gave us fake money and charged us taxes for things like having a messy desk, not following instructions, not completing our homework, etc. Then she started taxing us for things we needed, like using the pencil sharpener, going to lunch, going to recess. The taxes got so ridiculous that I and a handful of my classmates rebelled. We tried a few tactics to get rid of taxes, but it just made things worse. Finally, I wrote a "Declaration of Independence" and had everyone in the class sign it, so then she got rid of the taxes.
I don't remember many specific details about elementary school, but I have always remembered this unit, and I have been fascinated by the Revolutionary War time period ever since. It was such an effective tactic for her to re-create certain circumstances and have us experience these injustices, or in our case "taxation without representation," for ourselves.
Risky Business
I am impressed by how well the lesson worked. How did she know that I (or someone) would create a Declaration of Independence? How did she know it would happen precisely at the end of the unit? What if no one had done it? What if we all just sat there and paid the taxes and never complained? Teaching like this is so effective, but also difficult and risky.
A Class Divided Experiment + To Kill a Mockingbird


That is what I thought about while watching
A ClassDivided
. Jane Elliott took a great risk by teaching about discrimination by separating the class by their eye color, but it was extraordinarily successful with her students and with the prison workers. I would love to be able to teach a unit like this in which I can transform the classroom by creating new rules and allowing students to experience something for themselves rather than just read about it or listen to it. This would be a great lesson to pair with reading To Kill a Mockingbird. Perhaps it could even be tweaked to include people with green or hazel eyes to represent that in-between social class, like the Ewells.