Anne's Bucket List:
Read David Foster Wallace's
Infinite Jest
in its entirety, including the 388 footnotes.
Check.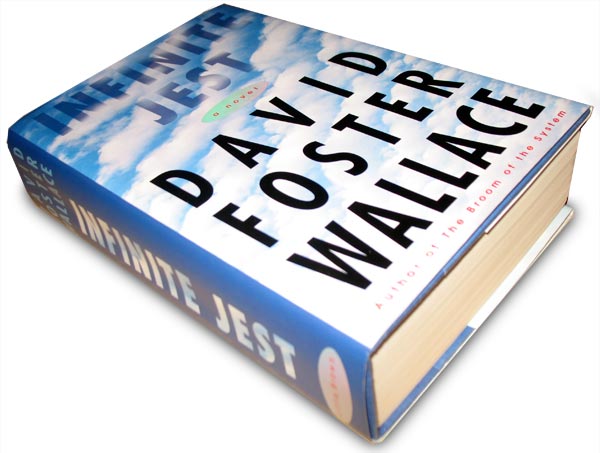 I almost gave up on it, more than once, but I persevered, and although I can't claim that it is my new favorite book of all time, I am glad I stuck with it.
Infinite Jest
read like a fragmented puzzle duct taped together. In a good, very precise way. David Foster Wallace was clearly in control of both the puzzle and the duct tape at all times.
I've been studying for the GREs using flashcards of the most commonly used GRE vocab words. DFW helped me study by inserting at least ¾ of the vocab words into this novel. Words like soporific, obsequious, prevaricate, equivocate, etc. One of the many upsides of reading Infinite Jest on my tablet was easy access to a dictionary.
Multiple web sites based on
Infinite Jest
have accrued since its publication in 1996, some of which include visuals to help make the places and events in the novel come to life. One such site,
Infinite Boston
, is a "ruminative travelogue and photographic tour of approximately 50 locations from Infinite Jest." This went live on July 16 and will be ongoing for a foreseeable future. You can also
follow the project
on Twitter.
Here's
a compilation of other visuals
like character diagrams and maps.
The book had a last page, but no ending, certainly not one with a pretty little bow that wrapped everything (or anything) together. But I didn't expect any bows. I would have, possibly, been disappointed if everything did make sense at the end.
So now here's my dilemma: I have a digital copy and a paperback copy of the book. I've been slowly going digital and donating my used books to the library, so I thought I'd donate
Infinite Jest
, since I have the digital copy.
(I made the decision to go digital after carrying 20+ boxes of books into and out of multiple 3rd floor walk-up apartments in the past 4 years.)
But now that I've completed it, I kind of want to keep the book on my shelf, like a trophy, so I can point to it and say, "Look what I can read!"